| | |
| --- | --- |
| Concours of Elegance | Source: © Thorough Events Limited |
GLOBAL HIGH TECHNOLOGY LUXURY MARKET
Responsible Author: Ruby BIRD & Yasmina BEDDOU (Journalists/Directors) | PARIS - SHANGHAI, 08/05/2019, 08:57 Time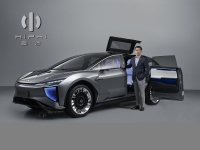 USPA NEWS -
Human Horizons launches a premium all-electric smart brand, HiPhi, with the vision to change human mobility and define a new breed of vehicles. In addition, the first production-ready prototype vehicle, HiPhi 1, is revealed to the world and positioned as a premium supercar-inspired electric SUV which is targeted at the growing global high technology luxury market.
125 Years of Motorsports
Responsible Author: Daren Frankish - Daimler AG. | Hockenheim, 07/26/2019, 22:39 Time
USPA NEWS -
Mercedes-Benz Classic at the Formula 1 Grosser Preis von Deutschland in 2019: Historic racing cars in Hockenheim for the anniversary "125 Years of Motorsports"
On 28 July 2019 Mercedes-Benz Classic celebrates " 125 Years of Motorsports" at the Formula 1 Mercedes-Benz Grosser Preis von Deutschland at the Hockenheimring. Besides extensive event activities, numerous vehicles from the company's own collection commemorate the highlights of motorsports history since 1894.
| | |
| --- | --- |
| | RAHMA-SOPHIA RACHDI |
| | Daren Frankish |
| | Ruby BIRD |
| | Yasmina BEDDOU |
| | Roberto Magni |